Product process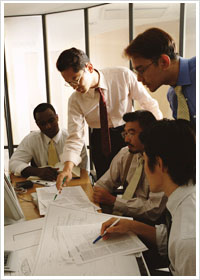 A molding processing chamfer
Legislation as a molding of the floor is first breakthrough in the surface grain processing technology, the original plane printing wood performance style into three-dimensional grain synchronous pressing sensory performance, enhanced visual knowledge of the wood grain effect. The floor of the change and adjustment of design, first consider the overall effect is now popular in the whole decoration popular style and popular color, followed in the technical use of the late tool of a molding of alternative non molded product trimming, complementary treatment. The U slot and the original changed to V type notch, assembling more closely, more beautiful. So that the overall style and each floor technology product achieves the effect of like nature itself -- highest quality.
Chamfer processing have wear-resisting layer surface protection, gorgeous and delicate, and after permanent antistatic treatment technology of dirt and fine stains can hide them. The world's leading direct pressure equipment production lines, chamfer treatment for small rounded shape, and a wear-resistant layer of protection, can realize a white edge effect.
Legislation as a molding of the floor so that people can really touch to its natural texture, make crural feeling better, to meet the people in pursuit of truth, simplicity, rough texture of life.

The heat conduction process of special
Li like floor is made of wood drying technology and special floor processing technology, improve the heat conducting ability realizes heat low resistance within the cycle, greatly improve the heating efficiency, so that the indoor temperature is more uniform and more comfortable.